Introduction
PhotoSort is a fast and easy to use Windows program for finding duplicated and nearly identical pictures. Finding duplicates on your own is a very difficult and time consuming task. PhotoSort makes this process easy, painless and fun and allows you to finish the job in record time. With its help you will free disk space and make your picture collection duplicate-free!
Download PhotoSort Demo
The demo version comes with some limitations but will demonstrate how easy and fast PhotoSort finds duplicates for you. Click here to download.
Get the full version for $19.95
Buying the full version is quick, easy and secure... and updates are free! Get the full version for $19.95 to order now and save yourself a lot of time and effort by letting PhotoSort find duplicates for you.
How it works
Unlike most duplicate detection programs, PhotoSort compares pictures by the way they look. This means that it will detect duplicates and near duplicates even when they are saved in different file format, have different size or scale, or even when they have been altered in other ways like if their color, contrast and brightness was slightly changed or texts and logos have been added. It can group photos that have been taken from a slightly different angle or position or in which the subject has moved. All this makes it perfect for every possible duplicate finding task.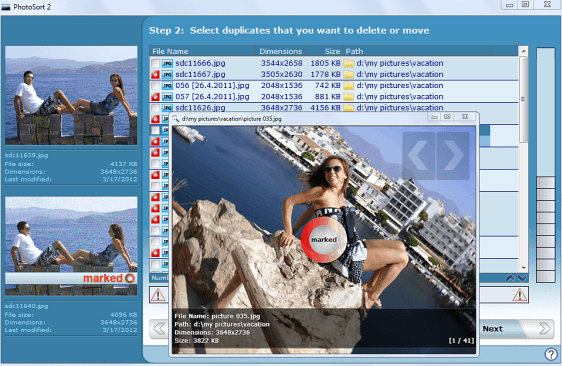 Program features
Real time adjustable tolerance level
There is no need to re-scan your collection for the second or third time with different parameters - do this only once per session and then watch pictures regroup in real time as you tweak tolerance level to suit your needs.


Automatic duplicate marking
If there are a lot if images that need to be marked it would take you a lot of time to do it by yourself. Let PhotoSort do this for you by using its SmartMark filter or tell it to mark all pictures that match certain criteria. You can get rid of hundreds or thousands of duplicates in a second!


Support for digital camera picture formats
In addition to common picture formats PhotoSort can also work with raw photos created by any of 250 supported digital camera models. PhotoSort is the first and only duplicate picture finder with this capability.


Two preview windows
When you click on one picture in the list, not only will you be presented with a small preview but PhotoSort will automatically find picture's most similar pair and show it to you in the second preview window.


File caching
File caching increases image loading speed more than 5 times and the database file is self maintained so you never need to think about it.


Listing of corrupted pictures
With PhotoSort but you can also remove pictures that are broken in some way and can not be viewed.


File management
You can open the picture, rename it, move it, browse its folder... all directly from PhotoSort.


Batch deleting & moving
Mark all pictures you want and push Next. In only a few seconds, PhotoSort will depending on your choice move or delete them all at once, with no action required from you.